Dedicated servers
If you are looking for top stability, safety and control, you are in the right place.
When your business outgrows virtual servers, it is time for a better solution with greater resources.
Trusted MyDataknox dedicated servers with state-of-the-art enterprise hardware will improve your service and business.
Take advantage of the high-end resources of MyDataknox dedicated servers!
High performance
Windows and Linux dedicated servers allow you to take advantage of 100% of resources. Do not share resources with others and there are no limitations specific to virtual servers.
Quick activation
Depending on the selected hardware combination, your server can be ready within minutes of payment! We will prepare special configurations as soon as possible.
Full control
You can easily manage your dedicated server through the control panel within the Mydataknox user interface. Access to the KVM console is included in all packages!
High-end hardware
Mydataknox dedicated servers are powered by new generation Intel® Xeon® processors. Quality DDR4 ECC memory takes care of added stability and performance.
24 × 7/365 Support
If you run into a problem or have any questions about the service, our customer service is at your disposal and will be happy to answer your inquiry.
MDK S dedicated servers
Perfect servers for small and medium businesses that have no need for enterprise server resources.
– Intel® Xeon® E-2136 Hexa-core CPU
– 32 GB DDR4 ECC RAM
– Fast SSD disks (480GB)
– 1Gbps connection
– Unlimited traffic
– Zero setup fee
– EU data center
– Professional support
– And much more…
Starting at €84,86 monthly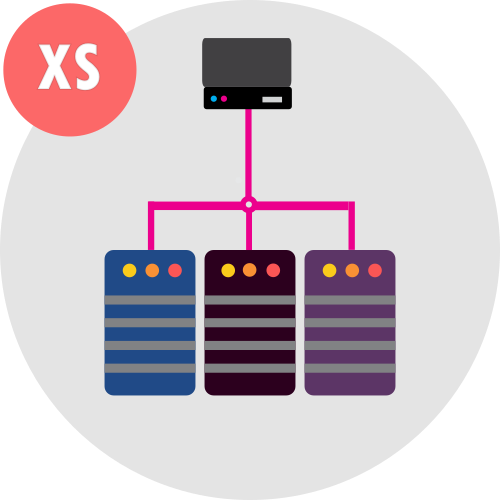 MDK XS enterprise dedicated servers
Vrhunski, potpuno konfigurabilni enterprise dedicirani serveri za najzahtjevnije korisnike i entuzijaste koji ne prihvaćaju kompromise.
– Intel® Xeon® E5-1650 / E5-2620 CPU
– Up to 512 GB DDR4 ECC RAM
– Fast SATA and SSD disks
– 1Gbps connection
– Unlimited traffic
– Zero setup fee
– EU data center
– Professional support
– And much more…
Starting at €113,18 monthly
ADDITIONAL OPTIONS FOR DEDICATED SERVERS
cPANEL & WHM
cPanel control panel is available on the Linux VPS servers and it enables you to easily manage web pages and user packages. WHM enables you to manage users and accounts, as well as hosting providers.
€30,55 / monthly
ADDITIONAL IP ADDRESS
In case you have the need for more public IP addresses, along with each VPS, you can hire up to 4 additional IPv4 addresses.
€2,47 / monthly
PREMIUM SUPPORT
MyDataknox Premium support offers you a complete solution for issues with VPS servers. The Premium support is an ideal service for those users that want a more serious approach to maintaining servers or for users that do not have technicians that will maintain the server. With Premium support, simply contact our technicians with a request and the necessary work will be done in the shortest time possible. Our support is available 24/7/365. For more detail regarding premium support, read the Terms of support.
€40 / monthly
CLOUD BACKUP
Cloud backup is a service that enables you to periodically save data on a high quality central server located in our datacenter. MyDataknox protects your data by replication and synchronization via a network, saving so called "snapshots" of every modification, which ensures that your OS, applications, files and data are simply saved and can be brought back from a protected copy, especially in the case of a catastrophe.
€6,92 / monthly (100GB)
200 GB:+€3,19 / monthly
300 GB:+€6,38 / monthly
500 GB:+€12,77 / monthly
800 GB:+€22,35 / monthly
1 TB:+€29,50 / monthly
1,5 TB:+€45,84 / monthly
2 TB:+€62,18 / monthly
YOU NEED SOMETHING WITH LESS POWER THAN OUR DEDICATED SERVERS? CHECK OUT OUR OFFER OF VIRTUAL SERVERS
Frequently Asked Questions
Do you have questions about dedicated servers? We offer you quick answers to the most common questions.
WHAT'S THE DIFFERENCE BETWEEN MDK S AND MDK XS SERIES?
The biggest difference relates to the fact that XS series servers are fully configurable enterprise servers that offer you a wide range of options. On the other hand, our S series of affordable dedicated servers are intended for smaller companies and individuals who need a dedicated server with an excellent price to resources ratio, without the need for multiple processor servers or large amounts of memory (the XS series offers up to 2 processors and 512GB server memory).
HOW TO ACCESS MY SERVER?
Depending on the type of server, you will have Remote Desktop (Windows) or SSH access to the server (Linux). Likewise, you can directly manage the server through the KVM console.
HOW CAN I PAY FOR A DEDICATED SERVER?
You can pay for your Mydataknox dedicated server online (by cards and PayPal) or by paying via bank account. You can choose monthly, quarterly, semi-annual or yearly payments when ordering.
WHAT IS INSTALLED ON MY SERVER?
All servers come with the selected operating system, no additional software. All applications and services such as databases, firewalls, web servers and the like are installed by you and according to your needs.
ARE THE SERVER DISCS SATA OR SSD?
The MDK S series uses SSDs only while our enterprise-class XS-based servers allow stand-alone disk selection, and SATA and SSD drives are available in pairs or in combination.
IS THERE A SERVER BACKUP OPTION?
Mydataknox offers an R1Soft Cloud Backup service that allows you to backup up to 2 full servers in a separate cloud. You can find out more about this service here.
WHAT IF SOMETHING HAPPENS, DO YOU PROVIDE SERVER SUPPORT?
Mydataknox support takes care of monitoring and basic server and network stability. For more detailed server maintenance, a Premium Support Package is available that extends the scope of our support. For a detailed review, see the Support Terms.
ARE YOU INTERESTED
IN DEDICATED SERVERS?
Contact our support, we'll gladly answer your questions